Best health insurances
for digital nomads
This page will educate you on the best insurances for digital nomads and expats. It will alsp help you distinguish between a travel insurance and health insurance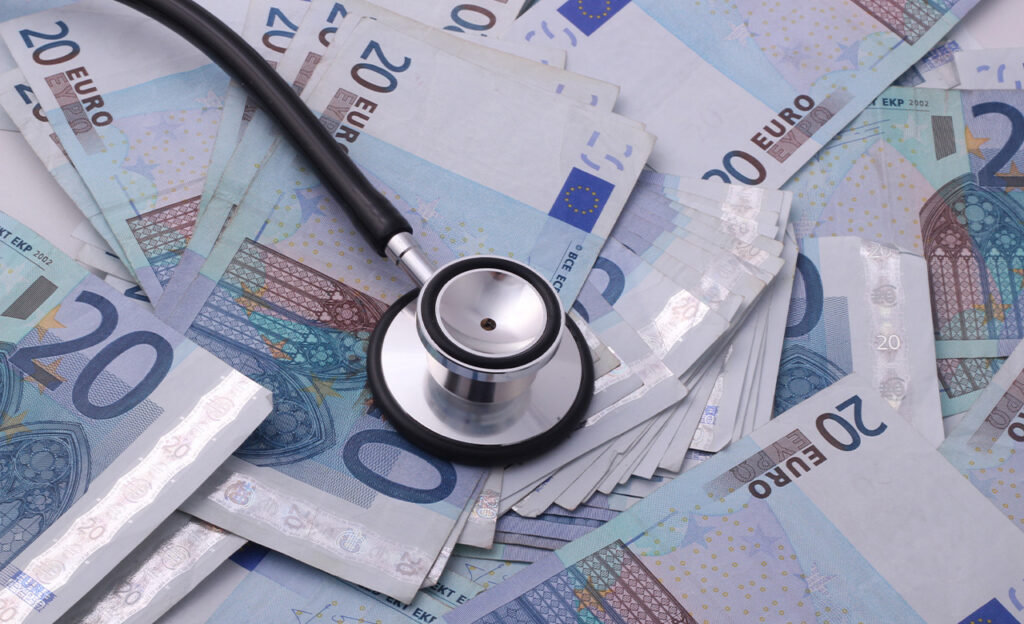 As amazing as traveling the world while making a living might be, it can also bring challenges. For instance, there are potential risks that can harm your wellbeing: from scooter accidents (just think of the crazy busy roads in Bangkok) to slip and fall injuries, food poisoning, contagious diseases like Malaria – or even a global pandemic as we experienced with COVID-19. 
Digital nomads travel long term, often full time which means they don't go home regularly. If something happens while being abroad, they can't just go and see their local doctor, so they need to ensure medical coverage in case of these circumstances. When looking for an expat insurance, there are two different options to pick from, international travel insurance and international health insurance. Let's start with defining the difference between these two.
Travel Insurance vs. Health Insurance
There are some significant differences between an expat health insurance and a travel insurance for digital nomads. It is necessary to understand these, in order to pick the right one for your needs.
Travel insurances for digital nomads offer financial protection for certain travel-related issues, like loss of luggage, trip cancellations, delay in departure, misplaced or lost travel documents, and so on. Travel insurance can also cover extreme sports, which comes in handy when surfing or hiking in your free time.

It also enables the insured person to be able to return home to seek medical treatment. This insurance is perfect for those who go on a trip for a short period of time, like backpackers or digital nomads. 
An international health insurance is for expats, exchange students, and digital nomads; who are abroad for longer periods. This insurance makes sure that covered people can seek treatment anywhere in the world, within the region of cover. In this case, you can also do routine visits to the doctor or in minor cases of illnesses. Extra travel coverage for things like lost travel documents is usually not included here.
Disclaimer: We are not insurance experts. This article is based on our own experiences as digital nomads searching for insurance coverage. Every person's situation is different – you must make sure, that you get the right coverage for your needs.

In our reviews we will be focusing on Health Insurance.
What to look out for in a Digital Nomad Health Insurance
You must find the best expat health insurance for your individual needs. Every health insurance provider offers different plans you can choose from. Factors like your age, the length of your stay, pre-existing conditions, planned activities, risk areas, etc. all play an important role and will define the end price of your digital nomad insurance plan. So the most important things to look out for in a digital nomad health insurance depends on your individual situation and circumstances. 
However, there are some factors to keep in mind when picking your international health insurance provider. First of all, don't underestimate that things can always change due to personal or outside circumstances, so you might want to opt for a more flexible plan. 
You should also consider things like coverage, the maximum length of insurance, etc. Think about how long you plan to stay and decide if you prefer paying for a flexible monthly subscription service or a specific price for a fixed period. Some providers want you to pick an end date, while others offer a more flexible service. 
You should also think about whether or not you would like to visit your home country when being abroad. Some digital nomad health insurance providers cover home visits, while others do not. 
Other circumstances you should take into consideration, are if you need additional services like dental plans, coverage for risky activities, and what countries exactly you are planning to visit. 
There are plans including and excluding the U.S. as often adding the U.S. is the most expensive portion. 
Last but not least ask yourself whether you are willing to pay a higher deductible for lower premiums since it can also affect the price massively. 
Always read the terms and conditions of your expat health insurance contract carefully, and remember to follow the newest travel and health updates.
Searching for the best insurances online can be quite overwhelming. That's why we researched the market, found the best options for digital nomads and expats, and summarized the most important aspects for you.
best insurance companies
for Digital Nomads
The best travel- or health insurance,  is all about preferences and needs. These are our favorite insurance companies
Insured Nomads
Safety Wing
World Nomads
PassportCard Nomads
IMG Insurance
Allianz Care
Seven Corners
Insured Nomads
Insured Nomads is a modern Insurance company designed for the global citizen. They understand the needs of digital nomads and expats, and it reflects in their insurance coverage.
Insured Nomads offer travel insurance for shorter trips and health insurance for digital nomads and expats who lives abroad for long periods.
Their insurance policies is transparent, the service is great and the app experience is a game changer. Insured Nomads, is by far our favourite pick for Digital Nomads & Expats!
Safety Wing
World Nomads
PassportCard Nomads
IMG Insurance
Allianz Care
Seven Corners
Access to a global network of 1+ million healthcare providers, and over 8,000 hospitals and clinics worldwide
Hospitalization and surgery coverage
Telemedicine
10-month maternity benefit waiting period
Mastercard® connected ID card and instant reimbursement
24/7 crisis response, emergency assistance, and real-time alerts
12-mo professional mental health counseling
12-mo GPS-enabled urgent response button
12-mo cybersecurity and online privacy protection
12-mo airport lounge access through PriorityPass
Local Emergency transportation of the patient by ambulance
Vision Care Benefits
Dental Benefits (for group schemes only)
Pre-existing medical conditions can cause restrictions to your coverage

Be aware of the annual excess you choose. It will vary from (EUR 0 /EUR 500 /EUR 1000 / EUR 3000 / EUR 5000) – This is the amount you will have to pay on your own before the insurance kicks in.

Be aware of all the insurance policy exceptions if you're into extreme sports

The minimum health insurancelength is one year

Insured Nomads excludes OFAC Sanctioned countries. The current listing includes North Korea, Iran, Burma, and Cuba
Flexible paying theme
You can purchase after your trip has already started
You can cancel your policy at any time and get a partial refund
Relatively low prices: starting with 40 USD per month (age 10-39) per 28 days
Coverage for some high-risk activities and destinations
Insurance during visits back to home country
Website is very userfriendly 
It's possible to add additional services like dentist, maternity care, etc.
No out-of-pocket expenses: You never pay for a claim, everything is covered by the payment card provided by PassportCard Nomads
You can purchase after your trip started
Flexibility: you can extend and cancel the policy as you wish
Inhouse customer service available 24/7, in messenger, What's App and on phone
Relatively low prices: the Starter plans starts at 59 USD/month
Experience insurance company with +20 years' experience
User-friendly app where you contact support and top up your payment card before visiting the doctor
Covid-19 coverage included
Great coverage for extreme sports
Gear Protection for your camera, Laptop, etc. 
You can make a claim online while on the road
Affordable prices
Great coverage (especially for risky activities and extreme sport)
You can extend your policy online
Online system can be a bit confusing
No coverage for pre-existing chronic conditions
Medical insurance for individuals, families, and groups
Five plan options
Flexible payment methods
Freedom to choose your own health care provider
Great for the adventurer who plans to do some risky activities
Choosing the right plan can be a bit confusing
You can only purchase coverage for 90 days
The basic plan doesn't cover maternity care, and their most expensive plan only covers deliveries and newborn care after membership for more than 10 months
Flexibility: Different levels of cover and different people under the same policy can select different plans
Discount available for families
Three different geographical areas to cover
Not as affordable as competitors
In order to have the coverage, you have to buy it before your trip starts
Single-trip plans from 5 to 364 days, with some plans offering renewable coverage for up to three years
Offer plans that cover pre-existing conditions
They locate an embassy for you and give you travel tips
Good for adventure activities
Basic plans are reasonably-priced
You need to have precertification for certain services 
As we mentioned before, every brand has its advantages, disadvantages, and unique selling points. Which brand would be the best option for you, really depends on your personal preferences. However, there are a few things that really stand out as important, for digital nomads like you…
Before we discovered Insured Nomads, our experiences with insurance providers were all very similar. Quite stressful and often with some uncertainty about the coverage.
Insured Nomads were the first company that made us genuinely excited about travel and health insurance! Their product is innovative, and they understand what's needed when traveling as a digital nomad. Their insurance service makes it much easier to travel with peace of mind.
The user experience is outstanding; no paperwork, excellent communication, and easy customer service support via their App.
Our favorite thing about their services is the prepaid Visa Card, that guarantees no upfront payments. Before your trip, you receive a card that will cover all costs in case of any unforeseen events or injuries. You can easily find doctors, hospitals, and other help through the App, and they help you book the appointment. Once you have a doctor's appointment, Insured Nomads will preload the credit card with the necessary amount needed to cover your medical expenses.
No out-of-pocket expenses. No waiting on refunds. Insured Nomads got you covered from the second the accident occurs.
The amount of stress that Insured Nomads manages to take away from our minds with their exceptional insurance services is simply incredible! We can't recommend them enough.
That's an important one, isn't it? Especially for people who are always on the move, plans can change quickly. This is when an expat travel insurance that offers flexible plans is a lifesaver. Imagine how annoying it would be to sign up for a one-year plan, but then you end up going back to your home country earlier than expected, without the possibility to unsubscribe. With Safety Wing you're on the safe side as it works like a subscription. From your chosen start date, your insurance automatically extends every 28 days until you pick an end-date.
Good choice for adventure activities: World Nomads
Even though many insurance providers include adventure/extreme activities in their plans, World Nomads seems to be the real expert here. They describe themselves as a "Travel insurance for adventure activities" and cover 150 activities, including bungee jumping, skiing, caving, skydiving, and numerous more. Not all activities are covered in every plan, which means that you may have to upgrade the plan to guarantee the right coverage. Once you've done that, your biggest worry will be to tell your mum that you've done that bungee jump… again!
Good choice for families: Allianz Care
Allianz Care is perfect for traveling families. Their international health insurance is designed to cover families and they even have a policy that covers children under 17. They offer a range of family-focused benefits, like enhanced maternity cover, first aid course for parents, well-child tests, child hearing tests, vaccinations, and more.
This article has hopefully helped you to get a better overview and understanding of some of the best insurances for digital nomads. As you know now, the possibilities are endless and each provider has pros and cons. The perfect provider depends on your individual needs and circumstances.
Now that you know how to take care of your health while traveling as a digital nomad, the next step you should look into is getting a VPN service to secure your sensitive online data while working from public networks abroad.