The Best VPN Services
For Expats & Digital Nomads
This page will educate you on what to look for in a good VPN service and why you need one as a digital nomad.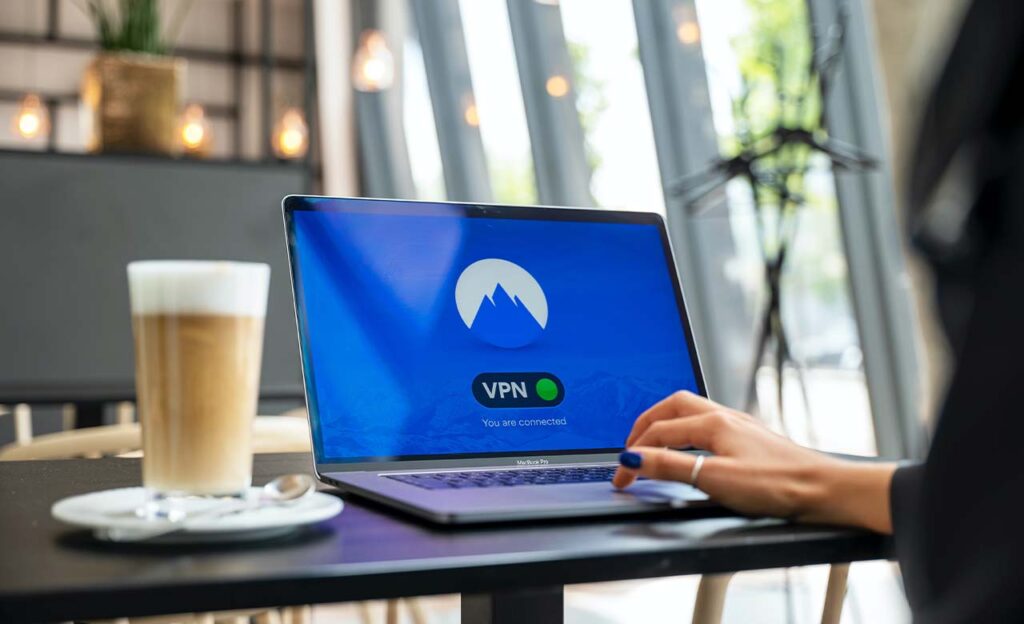 Are you looking to maximize your anonymity and security online, while traveling and working as a digital nomad? Then you're looking for a VPN service. In this article, we will guide you through the best VPN providers for digital nomads and expats.
When you start traveling as a digital nomad or move abroad as an expat, you quickly realize that there are certain things you need to have sorted out, to make your time aboard as convenient and safe as possible. 
First, you might want to look into the more practical things like luggage, noise-canceling headphones, a portable laptop stand, etc. These things will make it more convenient to work and stay productive while traveling.
After you have all the necessary accessories sorted out, then you can start planning your trip.
When you travel as a digital nomad, certain things are necessary from a safety perspective. You need to have both your personal safety in mind, as well as the safety of your business and clients.
Common sense and proper research about the destination will take you a long way, but there are certain safety measures that you need to have in place. First, you will need travel insurance that covers you abroad and provide the necessary support. Besides good insurance to guarantee your health, you will need a VPN service to secure your online safety.
When browsing the internet through various public networks, you become a target for hackers who are looking for opportunities to steal your data. The best way to combat this threat is by using a good VPN service. A VPN will bring you security and anonymity online.
It's common sense among digital nomads, not to leave your phone on the table while working at a coffee shop, since you then become an easy target for pickpockets. For the same reasons, digital nomads don't access an unknown/public WIFI network, without using a secure VPN service.
A virtual private network (VPN) facilitates a secure connection between you and the websites you visit, by creating an encrypted tunnel for online traffic to flow. Nobody can see through this tunnel and all your data will remain private and secure. In other words, you can't get tracked while using a VPN and sensitive information about you and your clients will stay secure. That's why a VPN is a great solution for digital nomads who often use public WIFI networks, in airports, coffee shops, hotels, etc.
Sometimes we forget about all the sensitive information that gets passed on through the internet and we tend to think that we have 'nothing to hide'. But when you browse the internet, you are using your credit card details to pay for flight tickets, logins to access everything from your social media accounts to your clients' ad accounts. As you see, a lot of sensitive data is being passed on and we need to make sure that it stays protected.
Besides the obvious reason to protect your sensitive data, a VPN service provides several other benefits, that will be extremely useful for you as a digital nomad.
Why do digital nomads and expats need a VPN?
When you're traveling as a digital nomad you will constantly need to use your bank details online, whether it is to receive your payments through PayPal or use your credit card details to pay for accommodation or flight tickets. When you are using a public WIFI networks, you risk exposing these details to hackers. The way to prevent this situation from happening and keep your bank details secure, is by using a VPN service.
Unblock streaming channels
This is not the most important reason to use a VPN, but probably one of the most liked features among digital nomads and expats. When you are traveling in different countries, your streaming channels will pick up the local IP-address, and content on your streaming service will change, depending on the country you're accessing from.
A VPN will allow you to manually change your IP-address (location) and access content that is otherwise only available to a specific country. This way, you will be able to catch up on your favorite national Netflix show. A VPN also allows you to access streaming services and social networks in countries where they are otherwise not available due to restrictions.
Hide login details and sensitive information
Besides your bank information, hackers are usually trying to steal logins to social media accounts and business accounts. You might own a website, control an ad account for a marketing client, or use Fiverr for freelance work. As digital nomads, we are constantly signing into different online programs, and it is our responsibility that no sensitive data gets leaked. 
When you use a VPN service, your browsing history will stay anonymous. This will prevent companies from getting your cookie history and then use it for remarketing. The fact that none of your data gets shared, will also prevent governments and other entities from spying on your online browsing activity.
A VPN will allow you to browse the internet from other locations across the world. Hotel and flight booking websites use cookies that track your browsing history, this will allow them to know how often you return to check prices, the location you are searching from, and the device you are using. Based on this information, their algorithm will adjust prices accordingly.
A VPN will hide your browsing history and allow you to browse from any country of preference. When you browse anonymously, you can find the cheapest prices available, and this can save you a lot of money when you are traveling regularly as a digital nomad or expat.
What to look for in a good VPN?
Availability is the most important factor for digital nomads. You need to make sure that the VPN provider has servers in the countries you are traveling to. Trust me – you don't want to be in a Skype call or zoom presentation, where the VPN suddenly fails.
Every VPN service will affect your internet speed since it needs to route your connection through different servers, this will cause a natural lag. However, the best VPNs will only reduce your internet speed by 10-20%.
Make sure that the VPN provider has apps for all your devices,  this will make the experience as easy and user-friendly as possible. You should also check the number of devices included in their plan. You might be on the phone with a client while you are looking at project details on the laptop, therefore the VPN service needs to be able to cover multiple devices simultaneously.
Your VPN should not drop out under any circumstances, since that can put your anonymity and online safety at risk. However, all VPNs will occasionally have dropouts, and therefore the VPN service needs to have a kill switch mechanism that guarantees no leaks. This is often called an 'automatic kill switch' among VPN providers. This function will make sure that your internet connection gets disconnected in case the VPN drops out, both will then automatically return when the VPN is working again.
Just like any other tools or services needed for your business, good customer service is crucial. You need to be able to get in touch with the provider, in case there should be any fallouts or technical issues. This will give you peace of mind and guarantee that your business can run smoothly at any given time.
Best VPN providers to pick from
NordVPN
Express VPN
SurfShark
PureVPN
IPVanish
NordVPN
Pricing: 3.48 $ – 11.34 $ / Month
Money-back Guarantee: 30-days
VPN Servers: 5500+
 Multi-device support: Yes – Connect up to 6 devices
Customer Support: 24/7
Express VPN
SurfShark
PureVPN
IPVanish
Popular among businesses and digital nomads
Live chat customer support
Great value for money
WireGuard® for top speeds
Verified no-logs policy
Automatic Kill-Switch
Single sign-on (SSO) functionality
Apps available for all devices (Windows, macOS, iOS, Android, Linux and even Android TV)
Choose from over 5300 NordVPN servers in 59 countries
mobile availability
Worldwide access
Browser extensions
Very strong on security
Obfuscated servers
VPN split tunneling
Popular among consumers
Live chat customer support
Apps available for all devices (Windows, macOS, iOS, Android, and Linux
VPN extensions for browsers
ExpressVPN for smart TV systems & game consoles
User-friendly system
Apps available on all devices and platforms
Top-class security and encryption
No-log policy
Automatic Kill Switch
VPN Split tunneling
Private DNS
IP Adress masking
Best value for money
Unlimited
Excellent speeds
Unlimited connections/devices
Built-in ad-blocker
Whitelister (Allows specific apps & websites to bypass the VPN)
Private DNS
Double VPN
Strict no-log policy
Engaged live chat support
Top-class security and encryption
Kill switch function (on all devices)
Worldwide access
Most available servers
offers a FREE trial period
AES-256 encryption
Can unblock streaming sites including Netflix & Disney Plus
No DNS leaks
Kill switch
split tunneling
High speed
VPN hotspot
No IP address leaks
User-friendly mobile apps
Fast speed
Strong industry-standard encryption
Allows torrenting
Split tunneling
Unlimited simultaneous connections/devices
Customizable kill switch
DNS leak protection
500 GB encrypted cloud storage
Compatible with most major operating systems
Every provider on the list is among the best in the industry, but they all do things a little differently, and each provider has its own key selling points.
As digital nomads, we find NordVPN to be the best provider due to their specific business VPN plan. They provide a dedicated account manager to their business user, making it an extraordinary customer experience.
NordVPN is one of the best and most reliable brands and they have a strong reputation in the industry. All their features have a business-minded focus and aim to provide you with the best standard in terms of security and encryption while delivering the fastest speed possible.
Their prices are fair and their no-log policy is among the most recognized and trusted; due to the company's location in Panama, where there are no mandatory data retention laws, and no legal obligation to collect your data or participation in the five eyes or fourteen eyes alliances.
If you only plan to use a VPN for private usage such as browsing streaming services, then we would highly recommend SurfShark. SurfShark offers all the necessary features at a really competitive price point. It's easy to unblock your favorite streaming service, they have a strong no-log policy, making their service usable worldwide. SurfSharks VPN service delivers fast speed, a high level of protection, and a great user experience.
However, SurfShark does not have a business VPN plan, and therefore we only consider it a good option for general consumer usage.
Both services allow you to pay with PayPal, cryptocurrencies, and cash, so you can avoid sharing any credit card information.
Frequently Asked Questions